Discover more About our Reduced Phosphorus, Super Premium Cat Palatant!
Kemin Nutrisurance Europe has launched a

dry feline palatability enhancer

for the EMEA market with

lower phosphorus content

compared to the market-leading solution1, suitable to improve performance of

super-premium quality

cat food and treats.
---

---
Pet Humanization Remains a Key Trend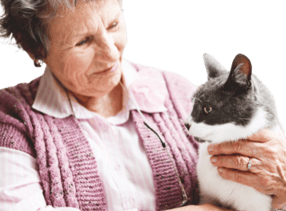 One of the pillars of the pet humanization trend is pet happiness. Pet owners use play, quality time, and desirable food to increase apparent pet happiness. With food, it is commonly perceived that the faster a pet empties its bowl, the happier the pet is with its meal.
Another growing pillar of this trend is seeking a complete nutritional solution, thus fulfilling the companion animal's nutritional needs while pursuing longer, healthier lives for them. These two pillars can be at odds — some ingredients that are key to nutrition are not palatable and some of the most palatable ingredients must be carefully controlled to meet animal nutrition needs.
Health First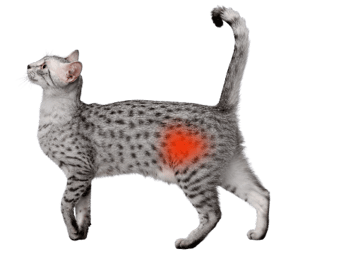 For decades, inorganic phosphorous inclusion in feline diets has been the key to reaching desired palatability. Natural phosphorus is an important nutrient in complete diets and can be found in many pet food ingredients.
Although necessary for flavor and nutrition, petfood formulators must pay close attention to the phosphorus content of finished feline diets, because research has also demonstrated that excessive inorganic phosphorus intake over time can lead to negative effects on renal health2. Research shows that chronic kidney disease is common and impacts 30% to 40% of cats 10 years and older.3-4
The Market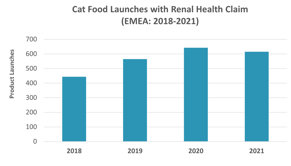 Customers are increasingly concerned about the health of their cats. This is reflected in the number of product launches in the EMEA region targeting specific claims such as Renal Health, with an annual growth rate (CAGR) of 11% between 2018 and 2021.5

References: 1. Internal studies referred to our palatant portfolio, 2. Alexander, J., Stockman, J., Atwal, J., Butterwick, R., Colyer, A., Elliott, D., . . . Watson, P. (2019). Effects of the long-term feeding of diets enriched with inorganic phosphorus on the adult feline kidney and phosphorus metabolism. British Journal of Nutrition, 121(3), 249-269. doi:10.1017/S0007114518002751, 3.O'Neill DG, Church DB, McGreevy PD, et al. Prevalence of disorders recorded in cats attending primary-care veterinary practices in England. Vet J. 2014;202:286-291, 4.Jepson RE, BrodbeltD, Vallance C, Syme HM, Elliott J. Evaluation of predictors of the development of azotemia in cats. J Vet Intern Med. 2009;23:806-813, 5. Innova Database extraction.