According to our expertise and experience, when amino acid (AA) nutrition is implemented applying the latest available nutritional knowledge and with the right rumen-protected (RP) AA supplements (both, Methionine (Met) and Lysine (Lys)), apart from the carbon footprint reduction, a better animal performance with a better N, P and feed efficiency (Francia et al., 2020) is observed.
Table 1 describes the nutrient profile (with regards to the protein side) for two diets, CONTROL and AA, that both cover the nutrient needs for a Holstein animal, 670 kg of body weight, 180 days in milk and second lactation, with 35 kg of milk production, 4 % of milk fat and 3.5 % of milk protein according CNCPS v6.55). Both diets are formulated for 24.7 kg dry matter intake. The CONTROL diet is not balanced for AA and therefore despite meeting the existing needs, we are losing potential, that means, we are not being efficient. The AA diet is a diet that covers the theoretical objective of our animal type, but, thanks that Met and Lys needs are met due to the use of KESSENT® M (Kemin RP-Met) and LysiGEM™ (Kemin RP-Lys), respectively, we can save 84 grams of metabolizable protein along as with a better allocation and formulation of the available raw materials (Table 2).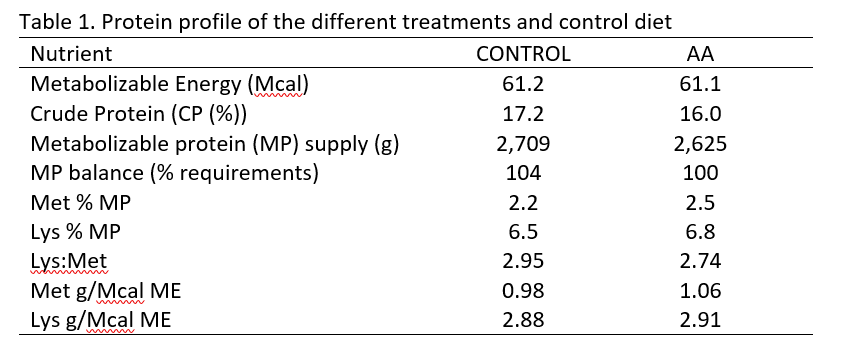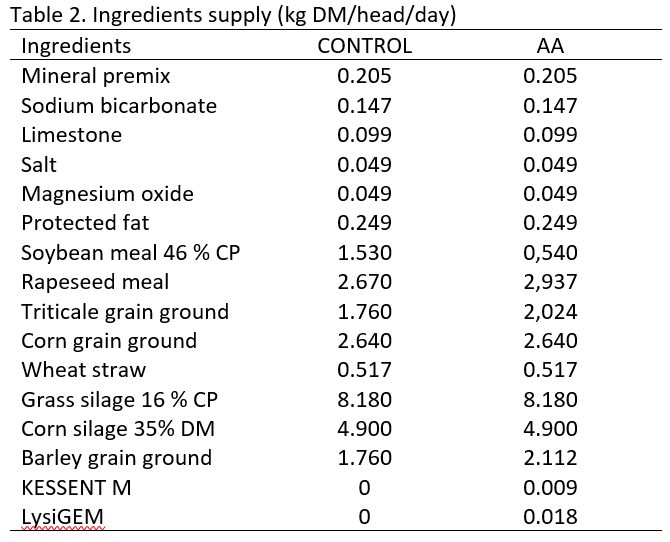 The AA diet was cheaper than the CONTROL diet (Figure 1). The cost per animal and day was, 5.046 € for the Control diet, and 4.957 € in AA diet. Thus, the economic savings compared to the control diet was 0.089 € (2.5 %). In Figure 1 we also observed that the CO2-eq supply the the diets were 26.396 and 22.293 for Control and AA groups respectively (premix, mineral and protected fat were not considered due to lack of reliable values). The reduction in the carbon footprint of AA diet was 11.2 % compared to the CONTROL group. It is noteworthy to point out that the CO2-eq contribution for the use of both RPAA, KESSENT M and LysiGEM were only 1.2 % in the AA diet, and we can save up to 11.2 %! For the AA diet, a N and N2O excretion reduction of 3 and 10 %, was observed respectively. The N efficiency was improved by 7.7 %.